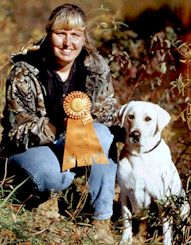 In December, 2000, we were deeply saddened by the tragic loss of our cherished companion, Codi. Codi was a wonderful dog in every way. The perfect mother, a wonderful companion, a devoted guardian of our family, and a treasured family member. She will be missed very much, but always fondly remembered for her gentle soul and enduring spirit.
"God Bless Our Pets"
Author Unknown
They say memories are golden, well, maybe that is true.
I never wanted memories, I only wanted you.
A million times I needed you, a million times I cried.
If love alone could have saved you, you never would have died.
In life I loved you dearly, in death I love you still.
In my heart you hold a place no one could ever fill.
If tears could build a stairway and heartache make a lane,
I'd walk the path to heaven and bring you back again.
Our family chain is broken, and nothing seems the same.
But as God calls us one by one, the chain will link again.