Picture Soon
Steele's Lightning and Hail
Multi BISS GRCH Bronze Shalimar's the Animator X Steele's Lightning Stikes Twice
OFA Hips Good, Elbows Normal, Eyes Clear, Centronuclear Myopathy Normal/Clear, Degenerative Myelopathy Normal/Clear Exercise-Induced Collapse Normal/Carrier, Hereditary Nasal Parakeratosis Normal/Clear, Progressive Retinal Atrophy Normal/Clear, Progressive Rod-Cone Degeneration Normal/Clear, Retinal Dysplasia/Oculoskeletal Dysplasia 1 Normal/Clear, Skeletal Dysplasia 2 Normal/Clear, Dilute Clear
Click Here To View Pedigree
Steele's Chasing the Sun Up
Multi BISS GRCH Bronze Shalimar's the Animator X Steele's Dreaming of Abaco
OFA Hips Good, Elbows Normal, Eyes Clear, Centronuclear Myopathy Normal/Clear, Degenerative Myelopathy Normal/Clear Exercise-Induced Collapse Normal/Clear, Hereditary Nasal Parakeratosis Normal/Clear, Progressive Retinal Atrophy Normal/Clear, Progressive Rod-Cone Degeneration Normal/Clear, Retinal Dysplasia/Oculoskeletal Dysplasia 1 Normal/Clear, Skeletal Dysplasia 2 Normal/Clear, Dilute Clear
STEELE'S CALL ME THE BREEZE
Multi BISS GRCH Bronze Shalimar's the Animator X Steele's Lightning Stikes Twice
OFA Hips Good, Elbows Normal, Eyes Clear, Centronuclear Myopathy Normal/Clear, Degenerative Myelopathy Normal/Clear Exercise-Induced Collapse Normal/Clear, Hereditary Nasal Parakeratosis Normal/Clear, Progressive Retinal Atrophy Normal/Clear, Progressive Rod-Cone Degeneration Normal/Clear, Retinal Dysplasia/Oculoskeletal Dysplasia 1 Normal/Clear, Skeletal Dysplasia 2 Normal/Clear, Dilute Clear
We do not currently have any Labs listed in this category, but please contact us for information or to reserve a dog or puppy.
You can check out our Planned Litters page to see what litters we have on the way.
In memory of
Champion VALCAR'S CHIEF STEELE, CGC
Ch. Rocheby Rainmaker X Valcar's Delilah
OFA Hips Good, Elbows Normal, Heart Normal, CERF eyes, Optigen "Carrier", EIC Clear
D.O.B. 9-17-01
"Chief"
Chief finished the 2003 year at 19th in the Country
Multiple Best of Breeds and Group Placements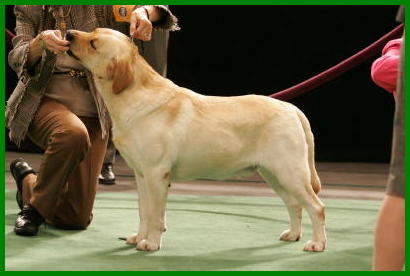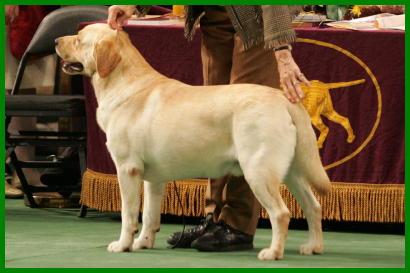 Picture above of Chief at The Westminster Kennel Club show at Madison Square
Gardens 2005 were he made the cut.
Pictured at 18 months of age
STEELE'S RAM JAM
BISS GCH CH Eagertrieve Blackjack X Steele's Chasing the Sun Up
OFA Hips Good, Elbows Normal, Eyes Clear, Centronuclear Myopathy Normal/Clear, Degenerative Myelopathy Normal/Clear Exercise-Induced Collapse Normal/Clear, Hereditary Nasal Parakeratosis Normal/Clear, Progressive Retinal Atrophy Normal/Clear, Progressive Rod-Cone Degeneration Normal/Clear, Retinal Dysplasia/Oculoskeletal Dysplasia 1 Normal/Clear, Skeletal Dysplasia 2 Normal/Clear, Dilute Clear